On May, 24th morning, we had the pleasure to receive at INSA Strasbourg a delegation from the King Mongkut's Institute of Technology Ladkrabang (KMITL), located in Bangkok. The delegation was composed of 5 members of the Thai University: Asst. Prof. Dr. Chaiyan Jettanasen Vice President for International Affairs, Ms. Khemthong Armart, Foreign Relations Officer, Division of International Affairs, Assoc. Prof. Dr. Amnuay Saengnoree, Dean of Faculty of Administration and Management, Dr. Sorasak Tangthong Assistant Dean of Faculty of Administration and Management, Dr. Rutchanee Gullayanon, Assistant Dean for Research and Innovation, Faculty of Engineering.
KMITL is already exchanging students with French universities in Bourgogne, Grenoble and Savoie Mont-Blanc. The delegation visited INSA Strasbourg in order to discuss the opportunities and possibilities French and Thai students would have to study in one another's country. Before opening the discussion, Ms. Angelika Hammann, head of International Office, gave a general introduction to INSA Strasbourg which was followed by an overview presentation of the research activities at INSA by Prof. Joel Fontaine, director for research and researcher at ICUBE lab and a description of the research activities of the INSA Fablab thanks to Dr. Amadou Coulibaly, assistant professor and researcher in mechanical engineering at LGECO Lab
Then an overview of the KMITL was given by Dr. Chaiyan Jettanasen, Vice President for International Affairs, and of the faculty of engineering and research by Dr. Rutchanee Gullayanon, Assistant Dean for Research and Innovation, Faculty of Engineering.
KMITL one of the best and biggest universities in Thailand
In 2016/2017, 23,455 students were registered on either of the two campuses. The main campus is located in Bangkok and the other one, south alongside the beach in the Province of Chumphon.
9 faculties: engineering, architecture, agricultural technology, industrial education and technology, science, information technology, agro-industry, administration and management, liberal arts
6 colleges: international college, college of nanotechnology, college of advanced manufacturing innovation, international medical college, international academy of aviation industry and college of educational innovation research where KMITL international demonstration school is a part of.
Research is also a highly developed field at KMITL they have 6 research clusters: Information and Communication Technology and Engineering, Future mobility and Logistics, Biomedical and Life Sciences (Healthcare), Arts and Creative Media, Agriculture and Food, Energy and Environment (sustainable tourism in world heritage sites).
For more information about the University go to: www9.kmitl.ac.th/en
Courses in English available                                                                  
In 2016/2017 KMITL welcomed 152 international students as many of its programs are also provided in English. It would thus possible for our students to study there one semester, for the whole year or for do an internship. The university has many facilities for both local and international students: international dormitory, medical center, sport center, student clubs, developing mind clubs… The same academic year 144 Thai students went abroad in many different countries as the University has over 150 partner institutions located mainly in Asia (65%), but also in Europe (20%), in North America (10%) and in Australia (5%).
The meeting at INSA Strasbourg was devoted to a lively discussion about the possibilities of exchanging students with the Faculty of Engineering, but also in the field of Architecture and within the framework of research activities.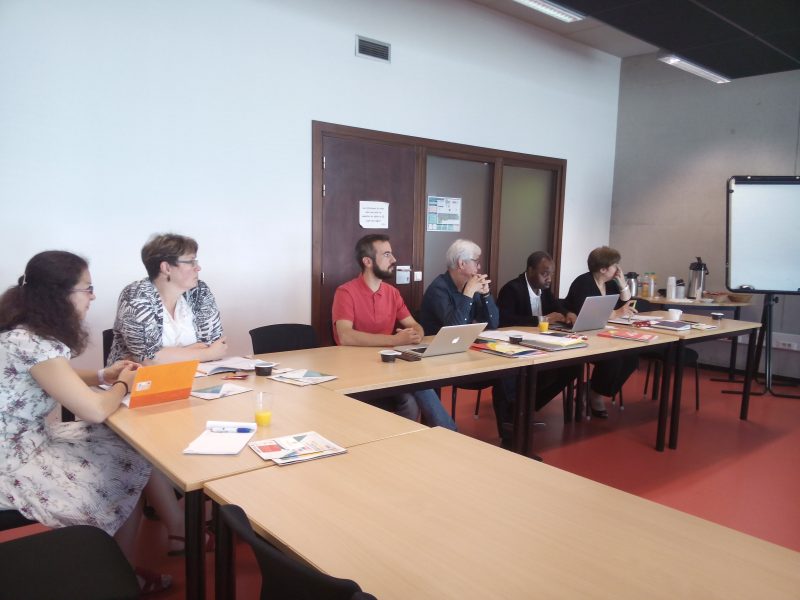 From right to left: Diana Signolet, outgoing mobility responsible, International Office, Anne Ankenmann, incoming mobility responsible, International Office, Dr. Nicolas Serres, international coordinator (incoming-outgoing students) for mechanical engineering studies, Prof. Jean renaud,  department director of transversal knowledge, director of Design Engineering LGECO Lab, Dr. Amadou Coulibaly, assistant professor and researcher in mechanical engineering at LGECO Lab and Dr. Nathalie Gartiser, director for strategic development, researcher in industrial innovation management (LGECO lab)
The faculty of Engineering is the biggest faculty of the university. In 2017 it had 6,853 students, of which 5,515 were under graduate students. It has 10 departments which cover different engineering fields: Telecommunications engineering, Electronical engineering, Electronics engineering (electronics and biomedical), Instrumentation and Control engineering, (instrumentation, automation, control, mechatronics), Computer engineering, Mechanical engineering, Civil engineering, Chemical engineering, Food engineering, Industrial engineering. The faculty also provides 6 international Programs: Energy, Chemical, biomedical, Innovative Civil Engineering, Computer Innovation and Industrial and management systems.
A Memorandum of understanding under construction between INSA Strasbourg and KMITL
INSA Strasbourg and KMITL are now working on a daft for a Memorandum of Understanding, in order to set up cooperation activities in the field of education and research.  
Crédit photo : Internationale Office and KMITL